Dressagecoddiwomple
Dressage (n.) The art of riding and training a horse in a manner that develops obedience, flexibility, and balance. A way of thinking. A way of living. A journey.
Coddiwomple (v.) To travel in a purposeful manner towards a vague destination.
Welcome to my blog - my dressage coddiwomple - a meandering life journey which has and continues to take me down interesting roads where I have discovered extraordinary trouvailles and whimsical crooked paths.
Although I do not consider myself a writer of any grand quality, I am a bit of a spontaneous gallivanter who enjoys sharing and writing about my experiences and observations.
As a student of the horse, aviation, and life, I also view writing as another way to learn and cement the ideas further into my understanding. Writing allows me to dig deeper into the subject material and gives me more reason to research and explore. I love learning new things and I enjoy sharing what I learn with others.
If you continue to explore my dressage coddiwomple, I hope you will find my writings interesting and of some value. Most importantly, I hope this blog inspires you to explore new places and perhaps embark on your own journey - your very own extraordinary coddiwomple.
Feel free to contact me to leave a comment!  I'd love to hear from you.
~Maribeth
Jan 11: SWFDA Schooling Show, swfda.org,  Ft. Myers, FL
Feb 23: ADA Schooling Show at Triple J, alphadressage.org, Sarasota, FL
Feb 29 - Mar 1:  SDCTA Spring Break I & II, SDCTA.net  Tampa, FL
Mar 22:  ADA Schooling Show at Triple J, alphadressage.org, Sarasota, FL
Read Full Post »
After making the little girl, God said:
"You'll need something to lean on. Something with substance that will teach you the value of hard work, perseverance, and to never give up. A thing that won't cast judgment when you mess up in life. Because you will often, it's just part of growing up and becoming a decent human."
"You'll need something whose impressive physical presence must be respected at all times. A being who could b...
Read Full Post »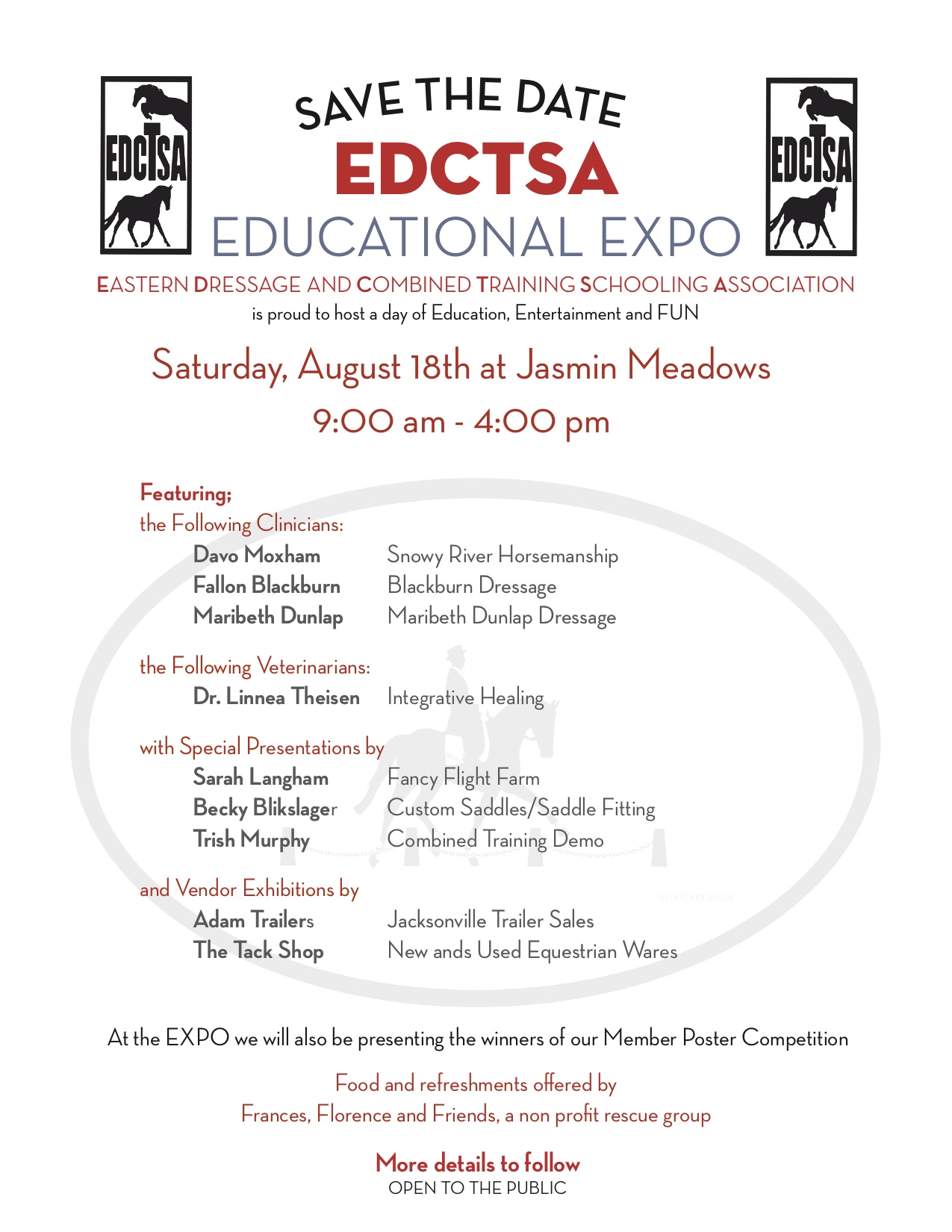 Skin Conditions & Home Made Anti-Itch/Fungus Cream
January 17, 2018
By Maribeth Dunlap
I have lived and kept my horses on my farm in Pennsyvania for most of my life.  We had to endure a mud season in spring where "scratches" were common around the pasterns and fetlocks of our horses. The opportunity to train in Florida during the winter gave me a another experience in fungus prevention. Fungus prevention in Flor...
Read Full Post »
Home Made Fly Sprays
Avon Skin So Soft Fly Spray
4 oz Avon Skin So Soft
1 oz Citronella Oil (essential oil)
12 oz White Vinegar
12 oz Water
Mix together in a spray bottle.  Shake well before each use.
Baby & Essential Oils Fly Spray
2 cups White Vinegar
4 capfulls of Baby Oil
10 drops each of essential oils:  L...
Read Full Post »
| | |
| --- | --- |
| Posted on September 1, 2017 at 9:30 AM | |
FEI Rule
Chapter I Dressage
Article 401 OBJECT AND GENERAL PRINCIPLES OF DRESSAGE
1. The object of Dressage is the development of the Horse into a happy Athlete through harmonious education. As a result, it makes the Horse calm, supple, loose and flexible, but also confident, attentive and keen, thus achieving perfect understanding with the Athlete.
These qualities are demonstrated by:
• The freed...
Read Full Post »
| | |
| --- | --- |
| Posted on September 1, 2017 at 9:20 AM | |
A Father's Explanation of Why He Had Horses for His Children
~ Author Unknown
My daughter turned sixteen years old today; which is a milestone for most
people. Besides looking at baby photos and childhood trinkets with her, I
took time to reflect on the young woman my daughter had become and the
choices she would face in the future.
As I looked at her I could see the athlete she was, and determined woman she
Read Full Post »